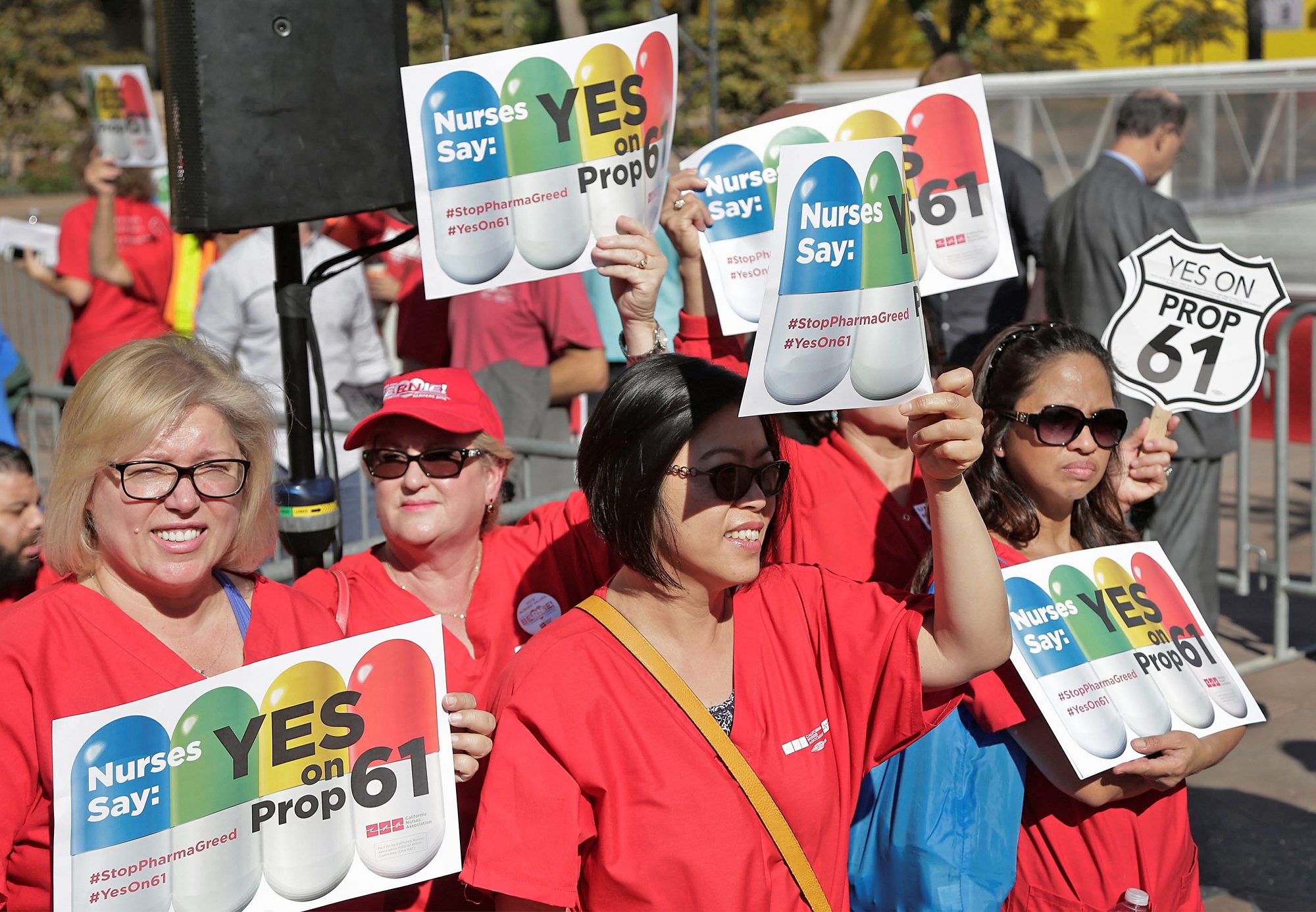 They lost in California, but that hasn't stopped activists from waging a referendum war in Ohio against the big pharmaceutical companies.
If approved by voters in November, Ohio agencies and state-assisted programs would be required to buy prescription drugs at prices no higher than what the U.S. Department of Veterans Affairs pays for them — typically 20 to 24 percent less than the usual price.
"It's the lowest known price that anyone in the government space currently gets," said Matt Borges, a consultant for the "Yes on Issue 2" coalition.
Sen. Bernard Sanders has endorsed the push, helping bring attention to the battle over what's known in Ohio as ballot "Issue 2."
The drug companies, who defeated a similar initiative in California last year, and other opponents are fiercely fighting back, injecting life into what was otherwise a relatively sleepy election this year.
They say that while it sounds nice to pay less, actually following through would be unwieldy, and could have unintended consequences.
"While everyone agrees that Ohioans need access to affordable prescription drugs, this ballot issue isn't going to fix the problem or do what it promises," said Dale Butland, a political strategist working with the Ohioans Against the Deceptive Rx Ballot Issue — a coalition of pharmacists, business leaders and other opponents.
The VA negotiates additional discounts with drug providers that aren't even disclosed, so opponents say it would be impossible to determine the benchmark price for each medicine.
They also say pegging prices to the VA could upend a complex web of supplemental discounts that companies negotiated with Ohio Medicaid and other state programs, and the state could see a spate of lawsuits if it undercuts those agreements.
Outside experts said there are a lot of unknowns about how the program would be implemented, including whether manufacturers and wholesalers will play along.
"I think there's one perceived risk companies might simply refuse to contract with the state because of this," said Caroline Pearson, a senior vice president at the Avalere health consultancy in the District who studied the California proposal.
Those fears — and a massively expensive campaign funded by pharmaceutical industry and other opponents — defeated the California effort last year. Voters rejected the low-cost limit 53-47.
Still, rising drug prices touch a nerve with voters — and with lawmakers, for whom the costs are taxing budgets at the federal and state level.
Six in 10 Americans — including majorities of Democrats, independents and Republicans — said lowering the cost of prescription drugs should be a "top priority" for President Trump and Congress, according to a nonpartisan Kaiser Family Foundation poll released in May.
Spiking drug prices are also one of the biggest uncertainties in predicting future costs for Medicare, Medicaid and Obamacare.
The VA, which operates a health system for veterans, is able to negotiate lower costs. But analysts said it's not clear how well that model would translate to the broader range of customers and drugs in big programs such as Medicaid.
Those pushing for Issue 2 say the fierce pushback from drug companies shows the industry is trying to protect profits at the expense of Ohio residents.
"It makes no sense that the drug companies would spend this kind of money if the California and Ohio measures were to have no meaningful impact on their profits," said Mr. Borges, a former chairman of the Ohio Republican Party.
PhRMA, the lobbying group, has spent at least $10 million to oppose the Ohio effort through the Deceptive Rx group, while supporters backed by Michael Weinstein of the AIDS Healthcare Foundation, which bankrolled the failed California effort, have spent roughly $6 million, according to the latest state figures.
All that spending doesn't appear to be shedding clarity on the effort.
About six in 10 voters said they don't know much, if anything, about the issue, according to a SurveyUSA poll commissioned by television stations WOIO Cleveland 19 News, WXIX 19 Cincinnati and WTOL 11 Toledo.
The poll, conducted in early August, found 30 percent would vote "yes," 15 percent would reject it, and 54 percent weren't sure how they'd vote.
Ohio's Republican governor, John Kasich, hasn't taken a side in the fight. Neither have U.S. Sens. Sherrod Brown, a Democrat, and Rob Portman, a Republican, though stakeholders on either side are expected to lobby them as the issue heats up this fall.
For now, both sides are casting themselves as the underdog. Supporters say they're up against TV ads by big-spending industry lobbyists, while its opponents say they face the tall task of unpacking a proposal that has surface appeal.
"It sounds good, obviously," Mr. Butland said. "But it's going to backfire and make things worse."