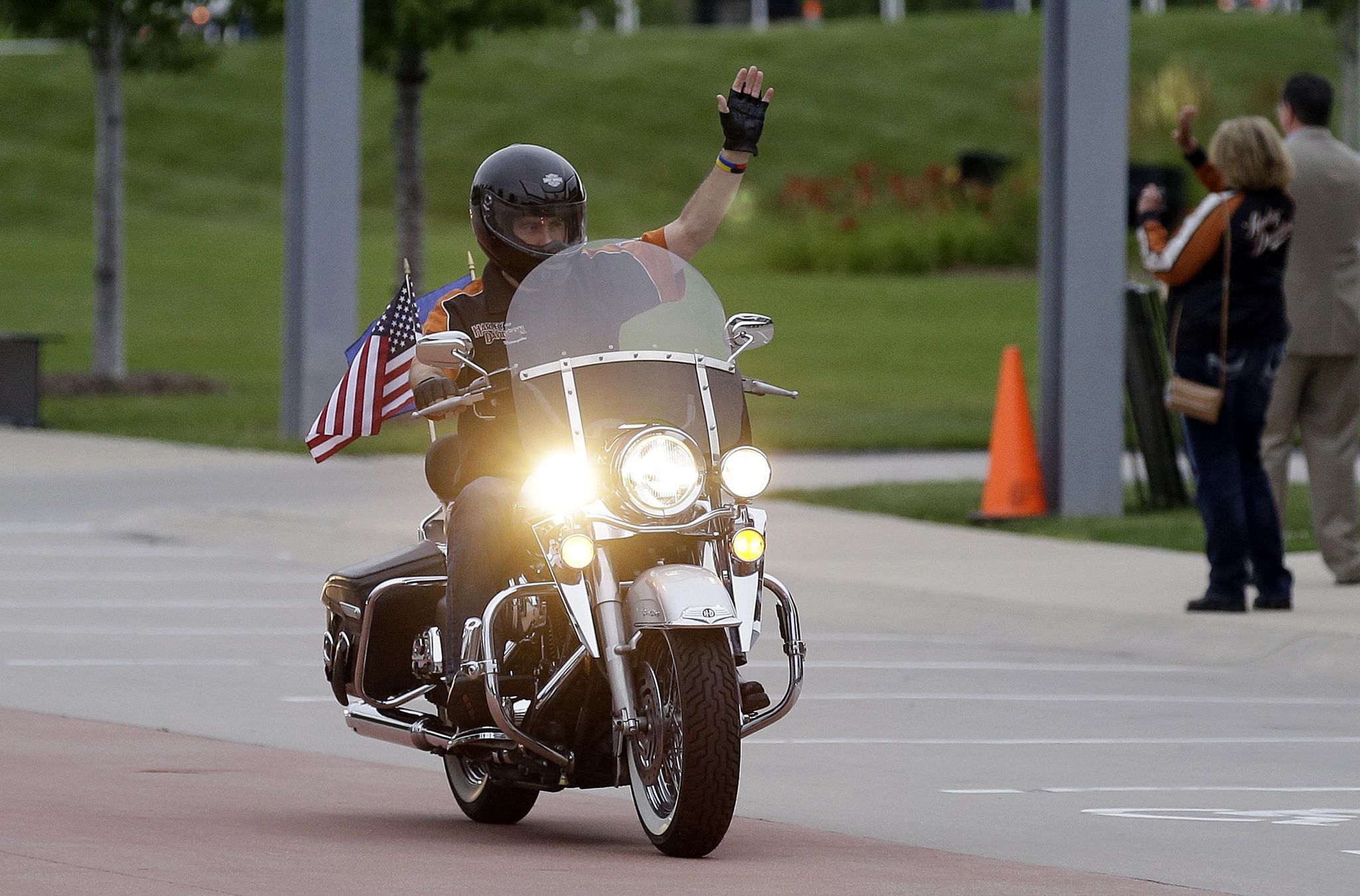 ANALYSIS/OPINION:
Close your eyes and imagine you're astride a Harley-Davidson. There's an American flag emblazoned on the gas tank between your hips, an engine eager to thunder under you, and that man astride a Harley hog at your side looks like he could be Donald Trump. No easy riders here.
But so much for a midsummer fantasy. The president says the iconic American motorcycle is poised to take a "big hit" for fleeing to Asia, but punishing Harley-Davidson may have unintended and unpleasant consequences. The Trump doctrine holds that even bad publicity is good publicity, but the new tariffs have already created the unintended effect of giving the company an excuse to flee. It has struggled for years, and it's likely that it will slowly continue to struggle. But Harley can say now that it has to move production out of the country because it has no other choice.
That's something the president himself acknowledged when he said Harley "made this deal at the beginning of the year, long before they ever heard of the word 'tariff.'" Indeed, the Milwaukee-based company said last year that it would open a plant in Thailand and fold its final assembly plant in Kansas City into its factory in York, Pa. That was before Mr. Trump imposed certain new tariffs on goods imported into the United States.
For years, the workers who turn the wrenches and weld the steel at Harley-Davidson worked solely in America. The president's nostalgia for yesteryear was evident when he said that "Harley is an American bike, it's an American motorcycle, and they should build them in this country. They shouldn't play cute."
But Harley-Davidson says moving is entirely connected to the administration's decision to impose tariffs on goods manufactured elsewhere. The EU imposed tariffs on Harley-Davidson machines imported into Europe after Mr. Trump raised tariffs on steel and aluminum imported from the EU to the United States, from 6 percent to 31 percent. That's what happens in trade wars. According to a filing by Harley-Davidson to the U.S. Securities and Exchange Commission last week, that could raise by $2,200 the price of an American-made Harley sold in Europe, a steep rise from the current price of a Harley, which ranges from $10,000 to $40,000 depending on the model.
Harley-Davidson announced last year that global motorcycle sales were down 6.7 percent from the year before, and the slide is 8.5 percent in America. The slide has continued this year, with global sales in the first quarter of this year down 7.2 percent, and even steeper — by 12 percent — in the United States. The only good news for Harley is in the international market, where sales were up, but by less than a percentage point.
The president no doubt recalls the happier summer of 1969, when the movie "Easy Rider" popularized the motorcycle culture in that distant "summer of love." The president grinned like a teenager who had just received his first driver's license when Matthew Levatich, the president and CEO of Harley-Davidson, rode his motorcycle onto the South Lawn of the White House last year. Mr. Trump called the company a "true American icon, one of the greats. "The sound of that Harley is a little different," the president said. "It's really good."
When the president tweeted last week that he had done so much for Harley-Davidson, "and then this," he sounded like a father admonishing a prodigal child. The contretemps might not lead Harley to bail on Thailand, but an impulsive millennial might be inclined to buy a Harley as an irrational protest of the president's trade policy. Or an impulsive boomer, eager to indulge a late mid-life crisis, might decide to buy a Harley because he has been reading all about one. The president might be right that even bad publicity is good publicity and it's all free advertising from the president of the United States. Vroom, vroom.
The Washington Times Comment Policy
The Washington Times welcomes your comments on Spot.im, our third-party provider. Please read our Comment Policy before commenting.