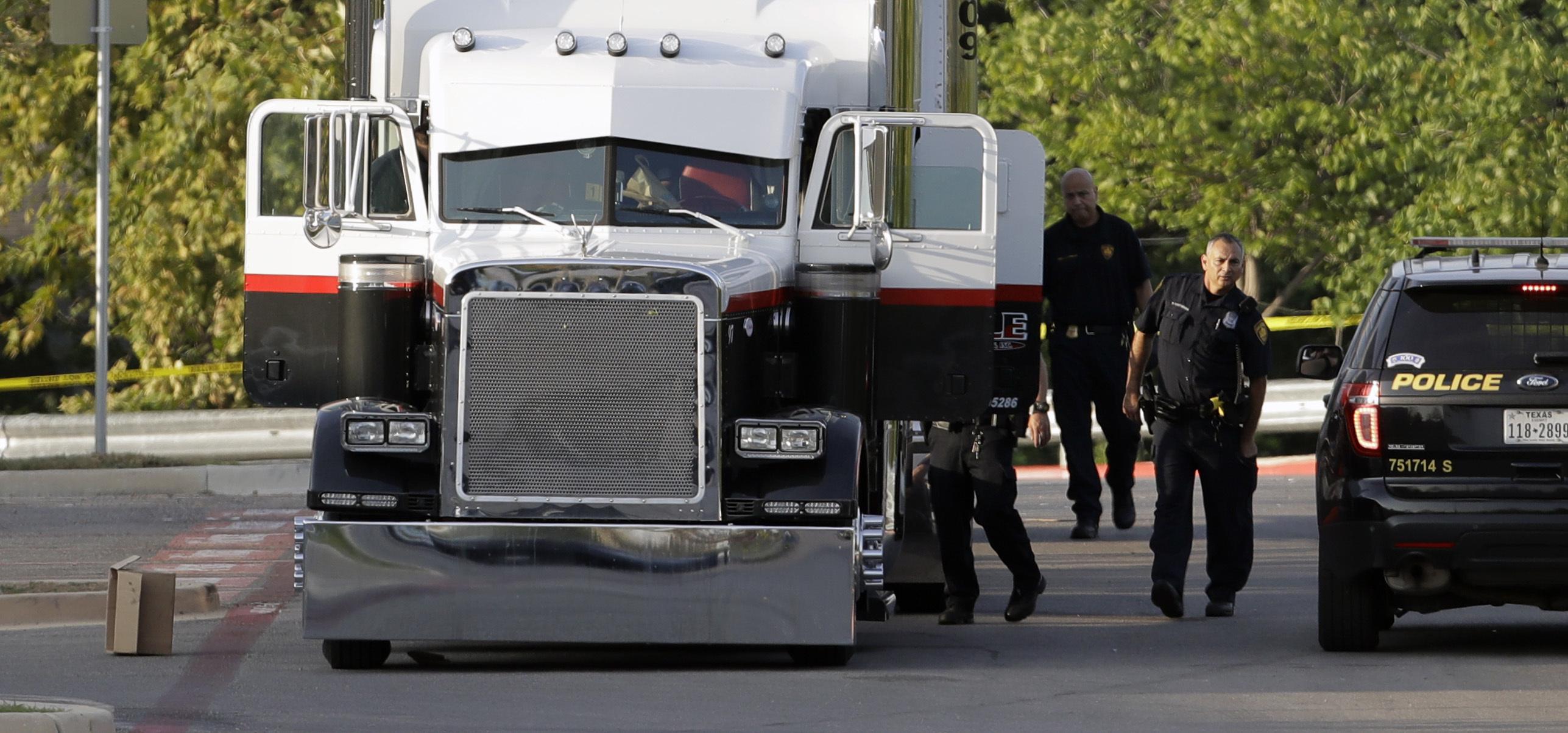 Federal prosecutors charged a truck driver Monday with smuggling illegal immigrants after 10 of them died in his trailer over the weekend, renewing a fierce argument over border security and the risks migrants take to try to sneak into the U.S.
As many as 200 migrants had been packed in the truck, according to what one of them told federal investigators.
The driver, James Matthew Bradley Jr., claimed not to have known about them, saying he only figured it out when he stopped to relieve himself in a Walmart parking lot overnight Saturday and heard banging from inside the trailer.
Eight people were dead at that time, one died Sunday, and another died Monday morning. Nearly 30 others were hospitalized.
"Human smugglers have repeatedly demonstrated that they have absolutely no regard for human life," said Thomas D. Homan, acting director of U.S. Immigration and Customs Enforcement.
The stories the migrants told investigators matched those of hundreds of thousands of others who have jumped the border in recent years hoping to gain a foothold in the U.S.
One migrant said he was supposed to pay $5,500 to his smugglers at the end of the trip, which began on the Mexican side of the border, entailed paying protection money to the Zetas cartel, being rafted across the Rio Grande into Texas one night, then walking all night and into the next day.
Another migrant reported having laid up at a stash house in Laredo, Texas, for 11 days, awaiting a final trip to San Antonio. And still another migrant said he paid 60,000 pesos to be smuggled through Mexico, and was en route to Minnesota.
They were all picked up and put into the trailer, assured it was refrigerated and they were safe.
But the refrigeration didn't work and people began to pass out, the migrants told investigators. They took turns breathing through a hole in the trailer wall, hoping to get whatever relief they could.
Once the truck stopped, dozens of them jumped out and rushed to waiting vehicles, others fled for nearby bushes, and still others remained in the trailer with the dead or ailing.
Authorities say more than 100 migrants were in the trailer, with one of them estimating it was as many as 200.
Mr. Bradley, the driver, said he knew the trailer's refrigeration didn't work, but said he didn't know anything about the load he was carrying. He told investigators he was hauling the trailer from Iowa to Brownsville, Texas, and had stopped several times in Texas, where he had his truck washed, detailed and polished.
When he stopped at the Walmart, he said he heard banging on the trailer, opened the doors "and was surprised when he was run over by 'Spanish' people and knocked to the ground."
"Bradley said he then noticed bodies just lying on the floor like meat," James Lara, a special agent with Homeland Security Investigations, a division of ICE, said in an affidavit filed in court Monday.
The smuggling charge carries penalties that include the death penalty or life in prison.
The administration has said its crackdown on illegal immigration is, in part, an attempt to stop dangerous smuggling attempts like this weekend's tragedy.
"These smugglers have no regard for human life and seek only profits," said Homeland Security Secretary John F. Kelly.
The House is expected to vote later this week on a bill that would provide $1.6 billion to build the first parts of President Trump's proposed border wall.